Our Client Care Specialists
Daria | Client Care Specialist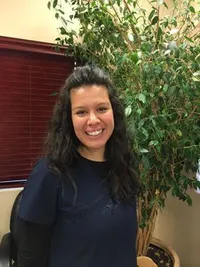 Valued Team Member Since 2017
Daria grew up in Southern California, and moved to Susanville, California as a child. She graduated from Lassen High School and attended Lassen Community College where she met her husband. She moved to Reno in 2008 to continue her education. Daria has been working in the veterinary field since 2013. She has two cats, Dawnatello and Babe, and a guppy fish, Wyatt. When Daria isn't working you can find her spending time with her daughter and husband. She also dances with the Reno Dance Company, and enjoys reading, baking, and taking her daughter to Lake Tahoe.
---
Kelly | Client Care Specialist
Valued member since 2019
She was born in Southern California, but has lived in Reno since middle school. She has had many pets including rabbits, rats, guinea pigs, cats,and dogs. She has been married for 30 years and has 3 children and 2 beautiful grandchildren. She also teaches art and PE at a local elementary school. She also loves to hike.
---
Lauren | Client Care Specialist
Valued member since August 2021
Lauren was born and raised in Southern California. Lauren and her family moved to Northern Nevada in 1998, and has been here ever since. From her early childhood Lauren was always in love with dogs. While she was attending TMCC for early childhood education she came across an opportunity to work at a local veterinary clinic as a receptionist. Shortly after starting she realized that she loved working at the clinic, and that helping not only the pets, but also their owners. She has been in the veterinary field since 2006 and has enjoyed every moment learning something new almost every day. She has worked in both Emergency and Specialty medicine for the last 4-5years.

When Lauren isn't at work she is either spending time with friends and family, cheering on the Los Angeles Dodgers, or planning a trip to her favorite place on Earth...Disneyland. Lauren has 3 rescue dogs, Theodore Franklin a 4 year old Lhasa/ShihTzu mix, Woodrow B. Wilson a 3year old Schnauzer mix, and the newest addition to the pack is 1 year old Tommy Lasorda a chihuahua mix. Lauren is very excited to be a part of the MRAH team!

---
Shannon | Client Care Specialist
Valued member since October 2021
Shannon was born and raised in San Jose, CA. She moved to Sparks, NV in October 2019. She currently lives in Dayton, NV with her husband of 20 years, two of her four children, 10 chickens (and counting), 4 dogs, 3 cats, 3 horses, and an African Grey Parrot named Hazel. She has always had an intense love for and strong connection with animals. She has worked in veterinary medicine for the past 29 years, with no signs of slowing down. When Shannon is not busy working at Mount Rose Animal Hospital, she enjoys spending time with her family and menagerie. She also loves outdoor activities, including trips to surrounding lakes, hiking, and camping.
__________________________________________________________________________________________________________________________
Katherine (Kat) | Client Care Specialist
Valued member since January 2022
Kat was born and raised in Reno, NV. She stayed in Mexico for summer and winter breaks growing up and later stayed there for a year. While in Mexico,
her passion for helping and caring for animals grew. After many years in an office setting and dabbling in the beauty industry as a nail technician, she felt she was missing something in her life. An opportunity came up as a client care specialist at the local emergency clinic in 2018. She later went into day practice to continue her experiences and education in the veterinary field. She has a dog named Panda who spends most of his time plunked down soaking up the sun. He once in a while will chase his sister Canela. Kat takes pleasure in going to local events, enjoying new brews, and good food.
---
Our Technicians and Assistants
Alex | Licensed Veterinary Technician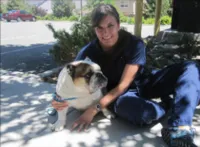 Valued Team Member Since 2010
Alex grew up here in Reno, where her love for the outdoors started at an early age. She graduated from Sparks High School and went on to achieve a Bachelors of Science in Biology from the University of Nevada, Reno. Alex grew up with a variety of pets from loving dogs and cats, to a 7 foot iguana and a 3-legged box turtle. Caring for her handsome English Bulldog, Hank, helped Alex to realize her desire to work in animal medicine. While in college, she volunteered at the Animal Ark animal sanctuary in north Reno, and worked as a kennel attendant. Once she graduated, she further committed to a career in animal care by working as a Technician-in-Training and managing the office of a small animal hospital in South Reno. All of these experiences have lead and helped prepare her for a career at Mount Rose Animal Hospital, where she has continued her education and successfully become a Licensed Veterinary Technician. In her spare time, you can find Alex outdoors. She loves traveling, hiking, camping, fishing, biking, and snowboarding with her husband, Kyle.
---
Tina | Licensed Veterinary Technician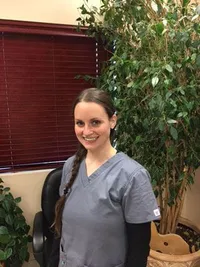 Valued Team Member Since 2017
Tina was born and raised in the Bay Area. She has always had a great love for animals and wouldn't know what to do without them! After completing an undergrad degree in California, she moved to Reno in 2011 to attend the TMCC veterinary technician program. Now a technician, she enjoys helping animals and has a special interest in dentistry and all things dermatology. In her spare time, she likes taking walks with her two dogs, Charlie and Mozzarella, and Netflixing. She is excited to be a part of the Mount Rose Animal Hospital team!
---
Lena | Licensed Veterinary Technician
Valued member since 2019
Lena was born in South Lake Tahoe but she has grown up in Carson City her whole life. After graduating Carson High School in 2008 she proceeded to get her Associates of Animal Science degree to become a licensed veterinary technician. Although she loves all animals, she has a special place in her heart for Pit Bull breeds. She considers herself an advocate for them. Her favorite part of her job is anesthesia and emergency/critical care. She also loves getting kisses from all of her patients and giving belly rubs! In the future Lena would like to proceed with getting her bachelors in animal science and specializing in anesthesia. Lena loves to spend time with her 2 fur babies Roxy & Tig, as well as her husband. Roxy is her sweet angel who could do no wrong in her eyes, while Tig is the obnoxious little brother who eats and gets into EVERYTHING, he keeps Lena on her toes. Roxy and Tig are completely inseparable though, Tig is the "Ying" to Roxy's "Yang". In her free time Lena enjoys, spending time with her family and friends, shooting targets, snowboarding, golfing, and watching her 49ers play football.
---
Allie | Veterinary Assistant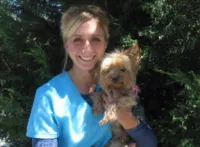 Valued Team Member Since 2011
Allison grew up in Gardnerville, Nevada and graduated from Douglas High School. After high school, she got accepted to Southwest Baptist University in Bolivar, MO, where she had a soccer scholarship. She played soccer and attended SBU for two years. From there, she moved to Reno to be closer to her family. She has always had a love for animals and would rescue and try to save every injured animal she came across. She also grew up on her grandparents' farm and cared for various animal such as chickens, ducks, peacocks, sheep, and goats. She loves being outdoors during the summer, and in her spare time she can be found fishing, camping, hiking, rock climbing, wake boarding, snowboarding, and being around family and friends. Allison has a Yorkie named Gracie, a Yorkie mix named Piper, and a cat named William.
---
Jeremy | Veterinary Technician - In Training

Valued Team Member Since 2018
I was born and raised in Reno and have always had a love for animals. I have been in this field for 3 years now and love it. I am currently going to school to get my veterinary technician license and hope to later continue my schooling and specialize in physical therapy. My hobbies outside of work include hiking, skiing and anything involving baseball.
---
Kelly | Veterinary Assistant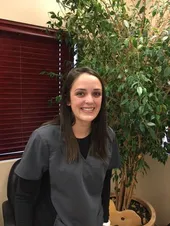 Valued Team Member Since 2016
Kelly was born in San Mateo, California and raised in Half Moon Bay, California until she was 24 years old. She has recently moved to the Nevada area for a fresh start on life. She has a cat named Frosty who came along on the journey and two dogs named Chevy and Jazzy.
Although she hasn't been at Mount Rose Animal Hospital for very long, she already loves working here! Between the wonderful doctors and the friendly staff, they have made her feel right at home. When she is not working, she is hanging out with her husband and daughter. They are both big animal lovers and love going swimming, camping, fishing, riding dirt bikes, anything that involves being in the sun! They are looking forward to winter and getting to play in the snow, since California doesn't get any snow.
---
Jillian | Veterinary Assistant
Valued Team Member Since 2017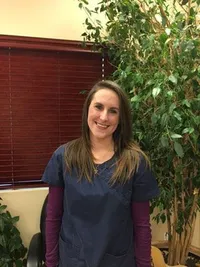 Jillian was born in Reno, Nevada and grew up in Virginia City. She has been in the animal care industry since 2010, working as an assistant and also starting a small pet sitting business. Her hobbies and interests are reading, exploring, spending time with family and friends, and loving her fur family. Her critters at home include a rescue dog named Angel and a special needs deaf puppy named Hope. She also has two very sweet diabetic cats named Gatos and Sugar. In addition, she cares for a handful of feral kitties named Brindle, Alley, Ringo, Murphy, and Bob. She loves working in the animal care industry and is honored to be a part of the Mount Rose Animal Hospital team!
---
Brittney | Veterinary Assistant
Valued member since 2019
She was born in New York and raised in Spring Creek, Nevada. She has worked in the veterinary industry since 2016 and her love for animals continues to grow every day. She grew up with many animals including:alpacas, horses, goats, chickens, hamsters, mice, geckos, tarantulas, dogs,and cats! She has great experience around a variety of animals due to growing up in a small town. She is currently attending Truckee Meadows Community college to obtain her veterinary technician degree. Brittney hopes to further her education in the future and attend college for veterinary medicine to become an exotic/wildlife veterinarian. In her free time you can find her teaching her dog, Ozzy, new tricks, spending time with family, or participating in any outdoor activity among other things. She is very excited to be a part of our team and meet all of our amazing clients and patients.
---
Rachel | Veterinary Technician- in Training
Valued team member since 2019
Rachel has loved animals since she first learned of them. By the age of 3, she was begging her mom for dogs and cats. Rachel grew up having cats, dogs, horses, guinea pigs, and rabbits as various pets throughout her life. She went to UNR and got her bachelors degree in Political Science with a minor in French, but it didn't take long for her to realize that wasn't her path. Rachel started working as a veterinary assistant in August 2009 and never looked back. She even met her husband through one of her coworkers at a vet hospital! Her main goal is helping both the client and patient to feel comfortable while getting the best care possible. And thanks to several years working in feline-only practice, she has a special affinity for grumpy cats. Rachel has three fuzzy cats, and also has two Dobermans, and a lab mix that she loves to take hiking, walking, training, to the dog parks, and to as many dog-friendly events around Reno as possible. She truly believes things are best when she has animals in her life!

---
Amanda | Veterinary Assistant
Valued member since 2019

I was born and raised in St. Louis, Missouri and although my move to Reno was fairly recent, my love and passion for animals is not. Since I can remember, I have always had a love for animals and a desire to care for those in need. Growing up, I cared for just about every animal you can get from a pet store and even some that you couldn't! Now at home, I have a pit bull named Kayden and a bearded dragon named Steve. I am currently going to UNR to pursue the beginnings of my veterinary journey, with the hopes of one day becoming a small and large animal doctor. When my time isn't being spent working or going to school, my hobbies include: photography, crafty things, hiking, taking my dog on adventures, watching movies, and spending time with my boyfriend.
---
Andie | Veterinary Assistant
Valued member since 2022
Andie was born in Tennessee, but raised in our very own Minden, Nevada; surrounded by animals of all shapes and sizes. Growing up, she even occasionally helped out at local farms and rescues. Andie has been working in small animal medicine for a few years now and is currently enrolled in the Penn Foster Veterinary Technician program to further her education. When not at work, you can usually find Andie with her dog, Levi, outside somewhere- whether that's camping, hiking, casual lake days, or off-roading to find some hot springs. Levi always goes along for the adventure. Andie is thankful to be a part of such an amazing team, with amazing clients and patients, and is looking forward to growing in the field.

---
Jazmine | Veterinary Assistant
Valued member since 2023
Jazmine spent most of her childhood in Northern California before moving to Carson City, NV as an adult. She has a 4 year old cattle dog mix named Mayzee who she got her senior year of high school. She started as a kennel tech in 2021 and very quickly grew a strong love for veterinary medicine. She hopes to continue her education and obtain her veterinary technician license. Finding her passion in a career she loves has been very rewarding and nothing brings her more joy than being able to help animals and their families. She spends her time off hiking with Mayzee, floating the river, and being social with friends. Her goal in life is to travel more and one day open a rescue for senior pets who have spent too much time without a family.